Bouski
Bouski are an indie band from Chester and North Wales
Bouski formed in the nineties, performing live shows in Chester UK for a short while before concentrating on recording and producing.
The band share studio space at Dave's Dolphin Daydream studios in Chester, and Drummer And.D's Drumkit Wonderland Studios in Hawarden, North Wales. The band only meet a few hours per week and in the last ten years, they have invested more in Beer Fridges and power tools than musical equipment.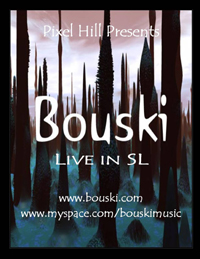 Suffice to say, they work at a snail's pace and produce one song every few months. However, they have learnt something good comes to those who wait.
Bouski personnel are:
Chris Thomas: Vocals, Bass, Bernard Manning Jokes
Dave Sz: Guitars, Bass, Synths, Saxaphone, Engineering, Production
And.D: Drums, V-Drums, Percussion, Production
Dave and And.D loved to spend many hours mixing the songs on a small 16 track machine (those technoanoraks will be interested to know it was the first version of the FOSTEX V16 multitracker), parked conveniently next to the fridge.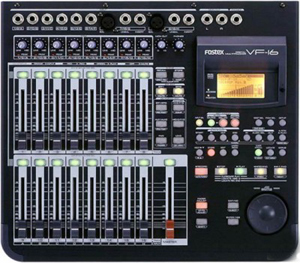 The Fostex VF16 machine used by Strangefates, Bouski and Didier for all recordings and live internet broadcasts up to 2010, acting as a digital recorder and mixer combined.
The band have recently started to use Propellerheads Record software to mix down their songs. Their forthcoming 2010 album will be soley produced using this equipment.
The band met in Chester at the Telfords Warehouse, renowned for a great gig atmosphere: cold guinness, people who thought they were cool, and an open mic night on Sundays where Dave had been testing out new solo guitar riffs to an appreciative drunk audience.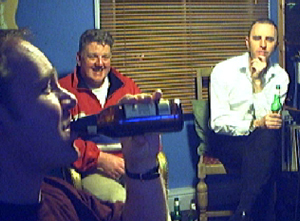 Bouski left to right: Dave, And.D, Chris
Chris, (Oil Sales rep, Farmer, builder, vocalist, and later to become a world class Hairdresser), saw Dave performing at the Warehouse and hired him instantly by buying a pint of Guinness and a packet of pork scratchings.
Chris and Dave started to compose and perform melodic original songs at local venues in Chester where Dave's guitar regularly broke down. Dave had accidently spilled lager down the battery slot. The guitar has never fully recovered, and only functioned if a piece of cardboard was forced into the EQ control.
Local Drummer And.D was introduced to Dave by Chris at Telfords Warehoues, Chetser. As soon as Dave learned that And.D owned his own drumsticks, he was hired. To practice, the Band used the local Banana Studios, which had moved into Cinderalla Rockafellas night club. The studio that Bouski worked in used to be a womens toilets, and there was a 9 foot by 10 foot mirror on a pink wall to prove it. Dave's acoustic guitar (which was cranked up to compete with And.D's drum volume) blew up Banana studio's main PA system on their second rehearsal and Bouski were booted out.
Although the band were disappointed, they could not stop laughing at the plastic inflatable banana sign outside that was deflating at the same time they were leaving.
Dave found Bouski shows nerve racking. Most gigs were played without a bass player, so he had to work out chords that emphasised the bottom end of the sound spectrum. Because of this anxiety, he started to develop double speed playing to halve the time of sets.
A period of time was dedicated to practising songs that could be fully played live, even without a Bass Player. Dave described it as a cross between sixth form pomp rock and graduate pipe smoking jazz, but grudgingly accepts that there were a few minor classics in there.
The evolution of production can be clearly heard from start to finish. And.D started wearing shades and took the role of executive producer in order to ban Chris from chewing gum too loudly into his mocrophone.
And.D's interest in production helped Dave's engineering enormously, as he had gone temporarily deaf after blowing up the Banana Studios PA system with his guitar.
---
Watch Out for the new 2011 Album "Amnesia and Piri Piri"
Bouski Albums & Tracks Available for Download
---
New Album songs for 2013
'What Happened?'
Yes, this is the question each band member has been asking? A meeting at And.D's Hawarden Drumland studios in January 2012 resulted in up to 16 new tracks being reviewed for a new album due in February 2012. Most of the material has been produced using a combination of live sessions using VF16 hard disc recording and remixing and overdubbing using the Reason / Record computer program. The result is a set of dynamic songs with a ethereal feel to them.
Some of the riffs of these songs have been integrated into Davie's solo guitar projects as they have proved to be playable in full band format and totally acoustic.
During the sessions, Ad.D, Dave, and Chris appear to have all suffered from amnesia. (This was thought to be due to the dangerously cold temperature of the beer in the studio fridge) Each week, they failed to remember their previous recording sessions, so most of the songs on this album were composed on the spot and allowed band members to use intuition and improvisation to take the lead.
---
Absolut 2009
The 2009 Bouski Album is an EP called "Absolut" and is a compilation of 7 tracks spanning 2002-2008.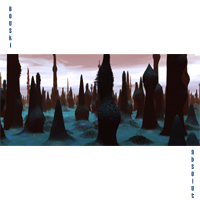 Dave stated that: "Absolut may be considered a brand of vodka these days, but here it stands for absolute zero: our drummer's fridge has managed to surpass that at minus 274 degrees celsius which makes our beer and our music superconductive. Kelvin is cool."
---
Songs from the VF16 2002
From the year 2000 the band focussed on recording, and pulled away from live music. For some it could have been a disaster, but the celebrated album "Songs from the VF16" was eventually released to everyone's surprise, as well as critical appraise.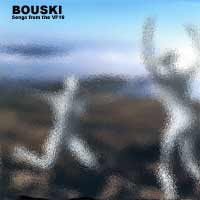 ---
Bouski Recording Beginnings
In the beginning Bouski had started off recording their music onto 4-track cassette machines in the confines of a small bedroom that Dave was renting. This was quite a feat in that they all managed to get into the room. And.D was using his Octagonal Simmons drum kit at the time. This was held together with tupaware, and blu-tac.
Dave eventually moved into his own house, and Dolphin Daydream Studios were built inside. The problem they had was that the recording room was upstairs on a wooden floor. And.D's drum kit was suspended on piles of cardboard and foam to prevent the ceiling below caving in. (The neighbour at the time, a single mum, later admitted that her ceiling lights used to move when the band were practising, yet she had never complained).
A number of bass players passed through the band like a dose of molasses, including Jonathon, a born again Christian who called out a catch phrase 'Top Song' after each track played. He later moved to London to a Rock school and was never seen again. Maybe he never found that top song down south.
Gareth Thomas then appeared with superdupa Bass equipment. Gareth a semi-professional musician had moved up North by accident to work in Chester University. For some reason, he liked the Bouski material and the band allowed him to join, because he had an expensive guitar tuner and a bass guitar with flashing lights on it.
In recent months, Vocalist Chris bought a wonderful Sound City bass on e-bay. He has learned a Neil Finn song to date, which means all Bouski songs he plays on have to have that particular bassline.
---
464
The first set of Bouski songs emerged in the nineties. Some were never officially released, but were salvaged for sentimental value onto the album 464 (Named after the Tascam 464 four-track cassette recorder).
Bouski eventually made a move to digital recording (with the VF16 opposite). Dave discovered that drummer And.D had an ear for production. They invested in a beerfridge for both Chester Dolphin Daydream Studios and Hawarden Drumkit Wonderland (aka Beerfridge Studios), and then linked the fridge to the mixing desk with excellent results.
---
Live Internet Broadcasts
From September 2008 Bouski started to broadcast on the internet through the virtual world Secondlife to relaunch a live act reaching listeners in Europe and The USA.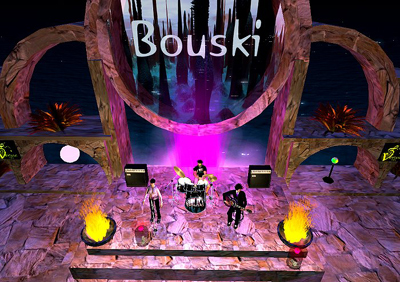 This was received very well by internet audiences, and Bouski plan to return again in 2012 despite the massive demands from their day jobs.