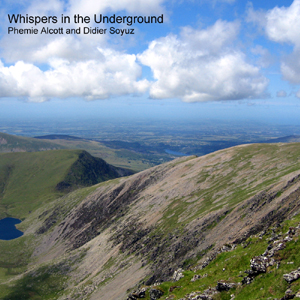 1. Chameleon
2. Long Silences
3. Chene
4. Cherry Blossom
5. Stolen Wing
6. Pushing Through
7. Signs
8. This Feeling (Free Downloadable Track- Limited period only)
Track and album samples and downloads available now at cdbaby.com here
You can also search via i-tunes
Reviews of Whispers in the Underground
VIRTUAL BLISS October 2010
By Jim Heinrich

Phemie Alcott is a gorgeous singing avatar who gives concerts on the Web site Second Life, a 3-D virtual Internet community. Phemie plays the guitar and piano with perfect poise as she sings the hauntingly beautiful songs of Kate Clark, her creator. This is the other, virtual world of Kate Clark, who has sung alto in the Pittsburgh Camerata since 2006. Kate describes Phemie as "a fun, hot blonde." Despite Phemie's last name, she bears no resemblance to Louisa May, and she's no "little woman." Phemie has the longest legs you've ever seen and wears a miniskirt and stilettos. She strums confidently and nods and sways and connects with her avatar audience as she sings her mellow acoustic original rock. Phemie, of course, has the voice of Kate, who was lead singer with the Pittsburgh rock band Bitter Delores for four years in the 1990s, a decade before joining the Pittsburgh Camerata. Kate says, "Phemie has a lot of what is inside of me that the real world doesn't see. She's my alter ego or what have you. And no, I don't want to look like her in real life. I like being me!"
You can see Phemie perform live if you link to http://treet.tv/shows/livekick/episodes/ep008#comment-form. You'll be watching her on the online show "Alive N Kickin" as she performs at "the Firefly Cafe on Pemberley in Second Life." You can catch Phemie regularly on Second Life, usually three or four times a week. (For her shows on Second Life, Kate sings and plays the keyboard from her home, and she sings covers in addition to 10 original songs. She says her dogs' barking in the background is well-known throughout Second Life.) Kate emphasizes that she takes performing very seriously and always gives the audience her best. For her, Second Life is all about the music. Phemie's audience is enthusiastic, including smashing-looking avatars dancing not quite in synch to the music. The setting, resembling Eden before the fall, attracted a graceful butterfly woman, a scantily clad witch with green hair, and a guy with a bare butt among cowboy studs and ballerina types. All are grooving to Phemie's show. And what isn't to love? The six original songs Kate sings on the show are lovely, and when she chats between songs, Kate's familiar, tinkly voice comes out of Phemie's mouth. For 32 minutes, it's fascinating, disconcerting and nutty, and if you've never experienced it, you need to do it at least once.
Kate had asked me not to dwell on the Second Life aspect of her music, but some background is necessary to understand her musical breakthrough this year.
Kate has recorded what I consider to be an amazing CD with a British guitarist whose concerts she had attended on Second Life. Kate has never even met Dave Szczerba — whose avatar name is Didier Soyuz — but she admired his talent and contacted him.
Didier (Dave) sent Phemie (Kate) eight instrumentals, and he even included suggested titles. Kate wrote the words and melodies and polished her singing. Didier mixed the music, with Kate doing her own harmonies on some tracks, and the result is the CD "Whispers in the Underground." In some of Kate's publicity, she has described herself as being influenced by such rock icons as P.J. Harvey, Sarah McLachlan, Tori Amos and Joni Mitchell. I'm not sure that these comparisons are helpful.Kate's music is more like P.J. Harvey on Prozac, Sarah McLachlan on triple espressos, Tori Amos on Zoloft, Joni Mitchell on Red Bull. The eight new songs are happy, optimistic, sunny, the melodies insidious and haunting. I love the "white spaces"; the pauses are as eloquent as the music itself. Her poetry evokes Joni Mitchell. The first song on the CD, "Chêne" (the French word for "oak"), is one of my favorites. She talks about building a house with "my bare hands alone" in the chorus, and I love each little pause after the word "bare," as if she's about to say something naughty. I love the verse that goes "I can see my
breath/The one you used to take/But now it is a vapor, a mantra, a ghost." And I have to wonder why Kate isn't being heard on radio stations all over the world. (By the way, she says she's very popular on Second Life in Europe.) Kate confirms that my favorite track, No. 5, "This Feeling," is also her favorite. The melody goes in many unexpected places, and it's unforgettable. When I describe Kate's music as sunny, here's confirmation from her lyrics: "The sun, you are the sun that shone right through me/You shine, giving me a brand-new feeling." Kate says
she's not a perfectionist, but if this song isn't perfect, I don't know what is.
Her other songs — all keepers — are titled "Cherry Blossom," "Stolen Wing," "Long Silences," "Pushing Through," "Chameleon," and "Signs." They can be downloaded on iTunes or Reverbnation.com, and the CD is for sale digitally or on hard copy (either as a CD or as individual songs) on CDBaby at http://www.cdbaby.com/cd/alcottsoyuz.
Enjoy "Whispers in the Underground," but I hope you won't whisper about it or confine it to the underground. Spread the word.

If Jim Heinrich were an avatar — and he's not — his virtual name would be Jimi Hendrix. He regrets that his last concerts with the Pittsburgh Camerata will be Halloween weekend.

Friday, November 5, 2010
On Saturday, 23rd October, Phemie Alcott and Didier Soyuz launched the release of their collaborative CD, 'Whispers in the Underground,' at Phemie's venue, The Firefly. Both uniquely talented individually, together they have created a sound all its own.
THE ARTISTS
Phemie has gained the adoration of her fans with her bubbly stage presence and tendency to giggle. Often described as having the voice of an angel, Phemie's first love is piano though she transitions with ease from guitar to piano during her performances.
Phemie has been writing and performing music since the 90's and was a member of a local alternative rock band in her home town of Pittsburgh. Following that, she attended school for Music Education and Voice Performance. Currently, she performs classical voice with a professional ensemble in Pittsburgh, as well as occasionally performing at open mics around town.
Meanwhile, on the other side of the pond, Didier Soyuz began "touring" SL in 2006, performing original, accoustic guitar instrumental pieces. In contrast to Phemie, Didi does not sing and has quite a laidback persona . He does, however, speak and always makes a point of acknowledging everyone in the crowd (in his mumbling Brit-speak). A Didier show is always a treat with fresh originals and popular favorites, such as 'Free Your Heart' and 'Face to Face.' Didi also performs live in SL with his RL band, Bouski.
THE COLLABORATION
After attending many of Didier's shows and loving the music, Phemie got the idea to do some music with him. Going through Harrie Skjellerup (owner of The Jester Inn) as a sort of "middlewoman," Phemie explained her idea to Harrie, who then conveyed it to Didier. Didier responded saying he would love to work with Phemie. Collecting her nerve, Phemie approached Didi directly. Through the beauty of email, Didi sent a tune to her to see what she could do with it. Phemie began woking on melody and lyrics and they soon had their first song, 'Chameleon.' Pleased with this first collaboration, they continued with Didi sending tunes and Phemie writing lyrics. Eventually, they had enough material for an entire album. The process of recording it was simpler than one might think. After receiving a tune from Didi over the airwaves, Phemie plugged it into her recording software, added her voice and sent it back to Didier. He would then "mix down the tracks or add effects or instruments, "adding a lot of reverb and "pushing through" Phemie's voice. Once they decided on the overall mix, VOILA! a Didier/Phemie song was born.
Of Didier, Phemie said, " It's been such an honor to work with him. I have the utmost respect for his talent and his music. I try to honor it when I write for it."
'Whispers in the Underground " may be purchased via the following link: http://www.cdbaby.com/cd/alcottsoyuz