Salamander Maroon joined Strangefates as a virtual guitarist in December 2006. She and Didier Soyuz had entered the virtual world Secondlife as newbies at the same time, and became close friends as they explored numerous clubs searching for the Nirvana of parties and clubs.
Sal had an addiction for shopping, and soon become notorious for fabulous outfits. Her sharp wit is well known: Sal has performed live as a stand-up comedienne in Secondlife.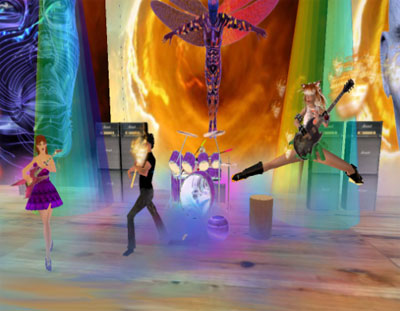 Classic Salamander Maroon Leap with Strangefates
Sal's SL career proves to be ecclectic, having been a journalist, comedienne, red-haired model pin-up, clothes designer, virtual land owner and continuing her rock-chick role in Strangefates.
Within Strangefates, Sal has developed her death defying stage leaps and dives into a critically acclaimed trade-mark part of the act.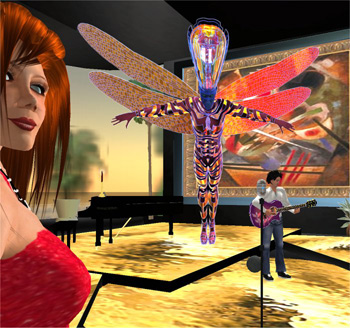 Salamander sporting self-designed Strangefates Black Sun t-shirt
Sal has recently relaunched her stand up comedy act to critical acclaim. Her bio is as follows:
Salamander Maroon: Comedian
Possibly Second Life's top red-haired female comedian, from Northern England, named after an amphibian.
What would happen if your mum came to visit you in Second Life?
How does SL pregnancy work?
What happens when your partner becomes too involved in role playing games?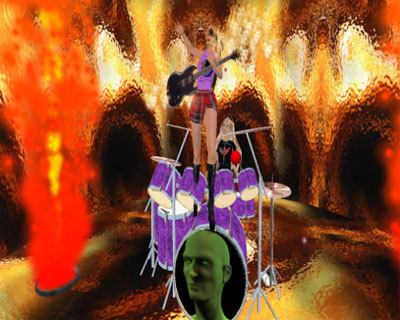 Salamander Maroon leaping above Cat Gisel's Drumkit
These and many more questions are asked by Sal in her routine, and answered hilariously with her acid tongue and sardonic turn of phrase.
Resembling a kind of flame-haired, foul-mouthed, postmodern Doris Day, Sal cut her comedy teeth with a stand-up competition at the now defunct Ecstasy Mall a while ago. After impressing the audience enough to win, she vowed to return. And several months later she did, performing short comedy sets with the brilliant travelling revue troupe The Show Must Go On.
Since then she has spread her wings, and now performs full length solo sets of up to an hour in voice, on stream or even in text.
Please drop her an IM if you are interested in booking her to play your club, or if you just want to know more about her.
Find out more on www.myspace.salamander_life
and join her SL group, Salamander's Giggle Brigade, to be kept up to date of her future shows.