Ex-Folk Singer and part-time Belgian Monk Johnny, together with the Molecules developed a process to record sound in a vacuum so they could hear what true Space Rock should really sound like. Dave also discovered that recording sound in a vacuum generated a Maximum Ear Wiggle Effect phenomenon and wrote a paper on this at Sheffield University on the back of a beer mat.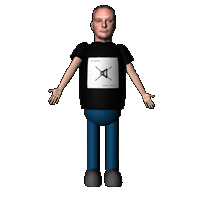 Johnny has produced a solo album called Barnsley In a Big Glass, although he isn't aware that anything was recorded as it was made whilst he was out of the studio. It has been critically acclaimed as a masterpiece of minimalism. A bootleg of the Big Glass Tour (entitled 'Music for Libraries') became an international seller and is played constantly in public spaces to enhance the silence.
Johnny recently suffered from writers block where he became temporarily audible, singing Belgian Folk Songs and becoming a DIY fanatic. The Molecules worked to rehabilitate Johnny, first by jointly editing and remastering the silent film Captain Amazon, re-released in 2005.
Johnny continues to sing silently for the Molecules..also known as Strangefates in the virtual world Secondlife.
Johnny has only just returned from a sailing trip around the world where he learnt how to not be heard by fish and crustaceans, and how to grow a beard at the same time.