Finally, a breakthrough...The Molecules have launched this preview of their new album.
After much debate in the Passage to India Curry House, Hillsborough (Molecules meeting headquarters) The working title of Silent Ghosts is likely to change, along with the bandname. The bandname will become Strangefates. This is to coincide with their launch into Second Life a virtual world where over 1.5 Million people have registered to find better things..and hopefully this music!
2002 's landmark album 'Clockwork Love' saw the Molecules moving further into multi-media: their critically acclaimed video Moebius Strip was broadcast by Pete Townsend and friends on his Towser TV in 2006: The Molecules were thrilled, even though they couldn't find anyone who saw the clip when it was on air. Rob concentrated on building more 3D images to complete the ambitious animation project. The cover of the new album represents Calculus Girl, her hair hiding her massive mathematician's brain.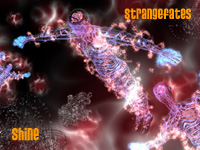 Meanwhile Johnny had been intending to Sail round the world in a home-made boat and to record his second solo album simultaneously. Unfortunately these hopes were dashed when he was run over by a truck whilst clinging to a traffic light in Doncaster. Johnny ended up with his foot in plaster, the throbbing making too much noise for any of his famous silent vocals.
Dave maintained contact with the band through various means: Rob was easy to find on the internet whilst he was building his animation on his computer, and even joined in with a session with Bouski through MSN messenger. His bass line ended up being three seconds behind the track. Luckily it only had one note, so no-one noticed.